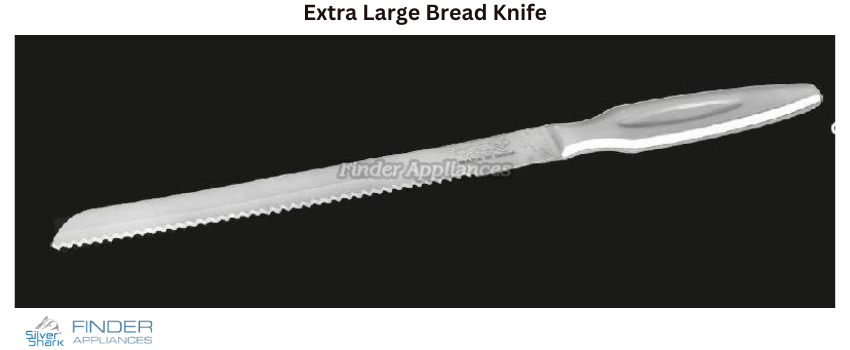 Despite its name restricting it to the solitary use of cutting bread, a bread knife is almost a culinary essential. An extra large bread knife helps to accomplish a variety of tasks. And its serrated edge is what makes this high-calibre performance possible.


Extra large bread knife suppliers provide knives with a cutting edge that has a toothy serration. It is across the length of it, in stark contrast to the chef's knife's flat and straightened edge.
When used with other kitchen knives with a plain edge, this acts as a saw. It aids in slicing bread or other ingredients as you move the knife while applying downward pressure.


A Decent Bread Knife, How Crucial Is It?
The greatest bread knife should be able to perform two to three jobs if you invest in one. A home cook can not imagine living without them because they are so important. A fresh loaf of crusty bread can first be sliced with its assistance.


The bread knife will come to your aid if you wish to put a thin slice of tomato on top of a slice of bread. You can easily slice the cake into multiple layers with regular knives. The layers can then be reassembled after being covered with icing.


These knives' tiny grooves or notches enable the kitchen blade to cut through the crusty exterior covering. It does so without harming the insides, making them quite useful.


What Is The Purpose Of A Bread Knife?
A bread knife's purpose is implied by its name alone. The good news is that it is not restricted to serving only one type of bread. It may be used to cut biscuits, cakes, and every type of bread. A bread knife works well for chopping through large fruits and veggies as well.


How Is A Bread Knife Taken Care Of?
Understanding how to use a bread knife appropriately and taking care of your kitchen blade are the first steps. Make sure you just use one direction when slicing bread, and slide the knife across the bread.


Use a wooden or plastic chopping board at all times to shield the blade from harm. You must substitute the knife's spine for the blade if you wish to remove bread from the board.


A Bread Knife's Sharpening Technique
It can be difficult to properly sharpen a bread knife. The use of a sharpening rod is the method that appears to have the best chance of success. You can evenly sharpen each tooth with its assistance.


You should choose a sharpening rod for this purpose whose diameter matches the serrations on the blade. Sharpening would not work if your sharpening rod is too thick. You might become agitated and strike the entire serration, though, if it is really thin.


Conclusion
An aesthetic design is not intended to be represented by the bread knife blade's shape. Ergonomically, they are created. To cut through bread loaves and fruits or vegetables with tough rinds, keep this in mind. Your extra large bread knife should be sharpened if you find that the edge is beginning to become dull.
Last but not least, your bread knife is not an exception to the rule when it comes to needing care and maintenance. This is true for all high-quality kitchen knives from bought from extra large bread knife exporters.